Current situation of Baha'is in Iran

Last updated: 8 June 2014
This report is provided as a service to the news media. All details have been verified by the Baha'i International Community. Statistics are current as of the above date.
Summary
Since the 1979 Islamic Revolution in Iran, Baha'is have been systematically persecuted as a matter of government policy. During the first decade of this persecution, more than 200 Baha'is were killed or executed, hundreds more were tortured or imprisoned, and tens of thousands lost jobs, access to education, and other rights – all solely because of their religious belief.
Government-led attacks on the country's largest non-Muslim religious minority have re-intensified in the last decade. Since 2005, more than more than 710 Baha'is have been arrested, and the number of Baha'is in prison has risen from fewer than five to a current figure of 136. The list of prisoners includes all seven members of a former leadership group serving the Baha'i community of Iran. In 2010, the seven were wrongly sentenced to 20 years in prison, which is the longest term currently facing any prisoner of conscience in Iran. The constant threat of raids, arrests, and detention or imprisonment is among the main features of Iran's persecution of Baha'is today.
Other types of persecution include economic and educational discrimination, strict limits on the right to assemble and worship, and the dissemination of anti-Baha'i propaganda in the government-led news media. Attacks on Baha'is or Baha'i-owned properties go unprosecuted and unpunished, creating a sense ofimpunity for attackers. Since 2005, for example, there have been at least 49 incidents of arson against Baha'i properties, crimes for which no one has been arrested. During the same period, 42 incidents of vandalism at Baha'i cemeteries have been recorded. As noted recently by a top UN human rights official, the government-led persecution spans "all areas of state activity, from family law provisions to schooling, education, and security." Put another way: the oppression of Iranian Baha'is extends from cradle to grave.
Recent incidents/updates:
Revolutionary Guard begin demolition of historic Baha'i cemetery in Shiraz
In late April 2014, the BIC learned that elements of the Revolutionary Guard had begun destroying a historic Baha'i cemetery in Shiraz. The site is, among other things, the resting place of ten Baha'i women whose cruel hanging in 1983 came to symbolize the government's deadly persecution of Baha'is.
Three Baha'is stabbed in Birjand in an apparent religious hate crime
On 3 February 2014, three Baha'is were stabbed in their home in the city of Birjand by an unidentified intruder. The attacker, who was wearing a mask, entered the home of Ghodratollah Moodi and his wife, Touba Sabzehjou, at about 8 pm, attacking them with a knife or sharp instrument. He also assulted their daughter, Azam Moodi, before fleeing. All three were seriously injured; Ms. Moodi managed to summon help and all three were taken to a local hospital in serious condition.
Baha'is in Iran told to leave town or face knife attacks after raids on 14 homes in Abadeh
Following raids on 14 Baha'i homes in the Iranian city of Abadeh on 13 October 2013, government agents summoned the occupants for questioning and urged them to leave town or face possible deadly attacks from city residents. Agents from the Shiraz office of the Ministry of Intelligence, with agents from Abadeh, launched the raids at about 8 am on 13 October 2013. The homes were searched, and Baha'i books, CDs, computers, and other items, including photographs, were confiscated. During questioning, several Baha'is were told that local residents "don't like you" and that "when you are on the street, they might attack you and your children with knives." But all evidence says the hate is instigated by the Government; Abadeh residents have good relations with Baha'is.
Murder of a Baha'i in Bandar Abbas
On 24 August 2013, a well-known member of the Baha'i community of the city of Bandar Abbas in southern Iran was murdered. The body of Mr. Ataollah Rezvani was found, shot in the back of the head, in his car in an isolated location near the railway station on the outskirts of Bandar Abbas. Every indication is that Mr. Rezvani's murder was religiously motivated. His killing came after a series of incidents that were apparently designed to force him and his family to leave the city. He had been under pressure from agents of the Ministry of Intelligence, who instigated his dismissal from a job in water purification. Recently, he had begun to receive menacing telephone calls from unknown persons. This came against a backdrop of attacks on Baha'is from the pulpit by local clerics in the past several years. The Baha'i International Community has said the murder should be treated as a hate crime, and it has called for an investigation. Since 2005 in Iran, at least nine Baha'is have been murdered or died under suspicious circumstances.
Imprisonments
There are currently 136 Baha'is in prison, all on false charges related solely to their religious belief. The list includes all seven Baha'i leaders, who currently remain in prison, serving wrongful 20-year sentences for allegedly "disturbing national security," "spreading propaganda against the regime," and "engaging in espionage." Their arrests in 2008 and sentencing in 2010 provoked an international outcry and are the longest sentences of any current prisoners of conscience in Iran. In December 2013, the seven wrote to Iranian President Hassan Rouhani to express their views on his proposed "Iranian Charter of Citizen's Rights."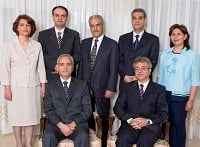 Among the most troubling of incidents recently have been a series of cases where Baha'i women have been imprisoned with infant children. On 27 April 2013, a woman and her one-year-old child were taken to Semnan prison to serve a two-year sentence. Last year, the Baha'i International Community learned of three instances in which young babies were imprisoned along with their Baha'i mothers. A five-month-old boy was incarcerated with his mother in Semnan on 22 September 2012. In December 2012, the boy was hospitalized outside of the prison suffering from a lung disease caused by unsanitary prison conditions. His mother continues to serve a 23-month sentence. His father is also behind bars. Another baby — the 10-month-old son of a Semnan woman who is serving a 30-month sentence — contracted an intestinal infection and an ear condition. He was taken out of the prison by his father for tests, was prescribed medication, and is now back in prison with his mother. On 17 December 2012, another Semnan woman was imprisoned with her one-year-old child.
Raids and arrests
Since 2005, more than 710 Iranian Baha'is have been arrested. Most of the arrests and detentions follow a similar pattern: Agents of the Ministry of Intelligence arrive at the homes of Baha'is, search the premises, confiscate items such as computers and books, and then make arrests.
Sometime between 24 and 27 September 2013, for example, agents raided the homes of three Baha'is in Tonekabon, arresting them and taking them initially to the Ministry of Intelligence. Their families, while trying to pursue the matter and discover their whereabouts, were attacked with pepper spray.
On 16 July 2013, 10 agents of the Ministry of Intelligence raided two Baha'i homes in Isfahan. During each raid, they agents searched the homes and confiscated personal items. In this case, no arrests have yet been made.
In January 2013, 14 homes of Baha'is in Ghorveh, Sanandaj, were raided by government officials. Agents confiscated all Baha'i books, compact discs, computers, and other belongings. They also created problems for school students by taking their textbooks needed for exams during this period. The authorities positioned armed forces at the entrances to all of the homes and in the streets leading to them. Each house was searched by six officials from the police and Ministry of Intelligence.
A report received in February 2013 told of a Baha'i man in Sanandaj who was picked up by Intelligence agents and driven around inside and outside of the city, threatened and intimidated. A week before that incident, the report said, another Baha'i in Sanandaj was treated similarly by intelligence agents who also drove him around the city whilst interrogating him.
Economic Pressure
Economic pressure on Iran's Baha'i community is acute, with both jobs and business licenses being denied to Baha'is. Government jobs, including not only in the civil service but also in such fields as education and law, have been denied to Baha'is since the years immediately following the Revolution and Muslims often are pressured to fire Baha'is in their employment in the private sector.
In July, five Baha'is from Najafabad, who had been employed at a contracting company, were dismissed without be paid their salary or other benefits.
In April 2013, the BIC received reports that some four Baha'i-owned shops in Birjand were closed and sealed by authorities. Business permits for other Baha'is there were denied or denied renewal. In January 2013, the BIC received reports that the manager at a Baha'i-owned elevator company in Isfahan was summoned by the office of Public Places Supervision Office and threatened to provide a list of all of his employees and their religions as well as a list of all similar Baha'i-owned companies. The office of Public Places Supervision Office in Isfahan has collected the names and addresses of all the Baha'i-owned optometry shops, including a list of their employees and their religions. And a large, Baha'i-owned distributor of hygiene products in Tehran was closed down resulting in 70 employees losing their jobs. The Baha'i owner was threatened against filing complaints.
All shops, except one, owned by the Baha'is in Semnan were closed down and sealed by the authorities over the course of 2012.
On 16 November 2012, the government authorities sealed all Baha'i businesses in Hamadan province. This day in the Muslim calendar marks a holy day for Baha'is, the anniversary of the birth of Baha'u'llah, Founder of the Baha'i Faith. Some 32 stores and warehouses belonging to Baha'is were sealed by the authorities. Over the following days, the shop-owners were summoned to the Information Office of the Ministry of Intelligence in groups of three each day, and were asked to sign undertakings not to close their shops on Baha'i holy days.
Cemetery desecration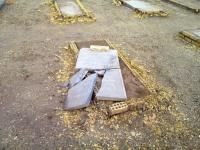 On 12 December 2013, the Baha'i cemetery in Sanandaj was partly destroyed. Reports from Iran say the morgue, where bodies are washed, along with the prayer room, a water tank, and the walls fo the cemetery were destroyed, apparently as the result of a long-running government effort to confiscate the cemetery land and razed is buildings.In Semnan recently, attackers destroyed the Baha'i cemetery there in two stages. In October/November 2012, intruders demolished the morgue and in December 2012/January 2013, they covered all the graves 40 centimeters deep in dirt using bulldozers. The municipality whose bulldozers were used for this purpose denied knowledge of the incident and promised to repair the damage. In December 2012, the Baha'i cemetery in Yazd was vandalized.  On 7 December 2012, it was discovered that around 140 pine trees, 15-20 years old, had been cut down. On 12 December 2012, a sign was placed in front of the Baha'i cemetery stating that the property had been allocated to the University.  The Information Office of the Ministry of Intelligence informed the Baha'is who had sought an explanation that a new property had been allocated for their use and approved by the Provincial governor-general.  The new property, however, is located between four factories, close to the city garbage dump, and an hour's drive from the city.
Persecution in education
Baha'i school children at all levels continue to be monitored and slandered by administrators and teachers in schools. Secondary school students often face pressure and harassment, and some have been threatened with expulsion. Religious studies teachers are known to insult and ridicule Baha'i beliefs. In a few reported cases, when Baha'i students attempt to clarify matters at the request of their peers, they are summoned to the school authorities and threatened with expulsion if they continue to "teach" their Faith. Young Baha'is continue to be denied access to public and private colleges and universities in Iran as a matter of official policy, which requires that they be expelled if they manage to enroll and school authorities learn that they are Baha'is. Those working in support of the Baha'i Institute for Higher Education (BIHE), an ad hoc, volunteer effort of the Iranian Baha'i community to provide education for its young people, have been at various times arrested, harassed and imprisoned.
On 15 August 2013, for example, a number of Baha'i youth in Vilashahr, who had gone to the village of Mousa Abad to study, were confronted by eight government agents. Three of the youth were arrested. They were released after three days.
Two days earlier, on 13 August 2013, agents of the Ministry of Intelligence in Mashhad raided a site where the BIHE was holding an examination. They arrested two students and an individual who was hosting the exam.
In March 2013 in Semnan, agents of the Ministry of Intelligence visited Shahhid Beheshty and Amir Kabir high schools and detained four Baha'i  students. There were interrogated for a few hours about the activities of the Baha'i community and released.
In February 2013, a report was received regarding a high school student in Isfahan who was severely beaten, verbally assaulted, and whose Baha'i beliefs were insulted by his teacher.  When he and his family protested, the teacher stated that owing to his previous administrative post at a school in Isfahan, he personally knew members of the Islamic Revolutionary Guard Corps and security officials and that their complaints would not have any effect.
In December 2012, a physics student at the Khajeh Nasir Toosi University of Technology (KNTU) in Tehran, was expelled for being a Baha'i. He was admitted in 2010/2011 and had already completed 77 credit hours. In October/November 2012, a student of applied mathematics at Rouzbeh University in Behshahr, was expelled. A Baha'i in Kermanshah was prevented from completing her enrolment at university after receiving an "incomplete file" on her test results online. When she pursued the matter, she was told that every student is expelled once it becomes known that she is a Baha'i, but was denied this explanation in writing. Additionally, a fifth semester student of architecture at Tabari University in Babol (Mazandaran), was expelled after being summoned to the Intelligence office at the university where his student ID card was confiscated and his student online account was closed.
Other forms of Persecution
Other forms of persecution faced by Iranian Baha'is include the monitoring of their bank accounts, movements, and activities; the denial of pensions or rightful inheritances; the intimidation of Muslims who associate with Baha'is; the denial of access to publishing or copying facilities for Baha'i literature; and the unlawful confiscation or destruction of Baha'i properties, including Baha'i holy places.
International reaction
Governments, organizations and individual supporters around the world are calling for the release of jailed Baha'i leaders and Baha'i educators, and an end to the persecution of the Baha'is in Iran.
In March 2014, UN Secretary General Ban Ki-moon and Ahmed Shaheed, the Special Rapporteur on human rights in Iran, both issued reports to the UN Human Rights Council stating that discrimination against Iranian Baha'is continues to persist in Iran. They cited continuing imprisonments, arbitrary arrests and detentions, ongoing exclusion from higher education, and hostility in the legal system. Read more…
In December 2013, the UN General Assembly approved a resolution expressing "deep concern" over continuing human rights violations in Iran. By a vote of 86 to 36 with 61 abstentions, the Assembly cited alarm over unjustified executions, the use of torture, limits on freedom of assembly and expression, and ongoing discrimination against women, ethnic minorities, and religious minorities, including members of the Baha'i Faith.
In June 2013, the International Labor Organization expressed "deep concern" over continuing economic and educational discrimination against Baha'is in Iran. Read more…
In May 2013, four high-level United Nations human rights experts called on Iran to immediately release the seven imprisoned Baha'i leaders. Read more…
Also in May 2013, the UN Committee on Economic, Social and Cultural Rights recommended that Iran ensure that all citizens, regardless of religious belief, enjoy full rights without any discrimination. The Committee specifically referred to the Baha'i community, expressing its concern that Iranian Baha'is face "widespread and entrenched discrimination, including denial of access to employment in the public sector, institutions of higher education, as well as to benefits of the pension system." It recommended that Iran "take steps to ensure that members of the Baha'i community are protected against discrimination and exclusion in every field." Read more…
More information about the international reaction to the persecution of Iranian Baha'is can be found at our International Reaction page. Numerous reports about the persecution have also been carried in the world's news media, some of which can be found at our Media Reports page.
Please go to The Baha'i International Community Website for others messages from the Baha'i International Community.